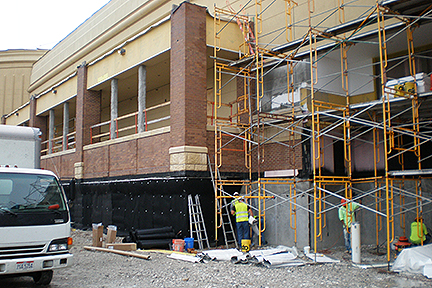 Weathersealing -Waterproofing
Keep the wet out there and the dry in here!
Great Lakes is a full service waterproofing contractor working with general contractors, building owners, and governmental entities to determine their waterproofing needs and to apply the correct products to keep them dry. Whether it is new construction or a restoration project, we have the capabilities and knowledge to find solutions to meet your needs. We work with many suppliers and manufacturers to find the product that best meets the conditions of your project.
Above Grade Weather sealing - Clear Masonry Sealer applicator
Great Lakes Concrete Restoration has applied a variety of clear masonry sealers on older and new masonry facades. Many types of masonry products are porous and some of them are very porous i.e. (common brick, split faced concrete masonry units). This type of application generally occurs in masonry restoration projects. Porous masonry surfaces typically begin to break down because of freeze thaw cycles, salt intrusion, etc.. Porous surfaces also allow the intrusion of moisture into wall cavity and at times into the building. Count on GLCR to provide expert analysis of your masonry veneer.
Below Grade Applications
One of our most recent below grade water proofing projects includes the new Rossford High School Gymnasium. This project included under slab water proofing, negative side and positive side waterproofing products which consisted on Carlisle Mira Bond, Bentonite panels, and vertical sheet membrane applied products. The final vertical system included Carlisle's drain board which directs the water down to the base of the building where it is collected and routed away from the building.
GLCR waterproofs many of the elevator pits in the north-west Ohio region.