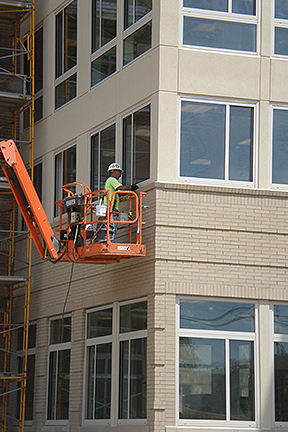 Sealants
We turn your cracks into architectural highlights
Caulking Applicator Specialist
Great Lakes Concrete Restoration is the leading caulking company in Northwest Ohio and has worked with many General Contractors, building owners, and governmental entities to ensure the projects are weather tite and sealed to their specifications. We install caulking on new structures, as well as, replacement of old failing sealant on existing structures. We have worked on many new projects in the region and have replaced deteriorated caulking on many buildings and parking facilities.
To mention a few larger projects:
Bowling Green State University new student dormitory - sealant installed exterior masonry control joints.
Hollywood Casino in Rossford – Parking Garage Deck –new sealant placement at slab control joints.
Penta County Vocational School a career center in Perrysburg - the newly installed caulking work included the interior & exterior control joints, door frames, and exterior masonry precast panels.
Federal Express Building in Wood County - sealant installed interior & exterior masonry control joints.
Walgreens Distribution Center in Rossford – surface lot control joints - existing sealant replacement
HCR Manor Care downtown High rise – Precast Panel expansion joints - existing sealant replacement
Expansion Joints and Compressive Seals
Hollywood Casino Toledo
Installation of vertical Compressive seals for the parking garage.